Utah Shakespeare Festival has a 'brilliant' idea about using art to spark complicated conversations about what's worth living for.
By Ellen Fagg Weist
The Utah Shakespeare Festival is skilled at producing shows for youth audiences, thanks to the theater company's 25-year history of sending classic plays on the road. But with this fall's Utah high school tour of "Every Brilliant Thing," the company is doubling down on its belief that telling searingly relevant stories can save lives.
"Brilliant" is a one-person play infused with light and dark humor. The script is unusual as it enlists the audience to help the narrator detail a running list of what's worth living for. A list of brilliant things, that is, that a young man creates in hopes of saving his mother from her suicidal depression.
Starting in October, "Every Brilliant Thing" will be performed at or near every Utah high school during a five-month tour. Two casts will perform the show on different routes. (That's in addition to the already scheduled January-to-April 2020 run of the company's Shakespeare-in-the-Schools tour of "Romeo and Juliet.")
Taking "Brilliant" on the road is an initiative aimed at helping Utah teenagers talk about suicide prevention. State legislators and the Utah Department of Heritage & Arts have pitched in to fund the tour, one of a variety of strategies targeted at reducing the state's suicide epidemic.
Artistic director Brian Vaughn says he was moved to tears when he first read the script of "Every Brilliant Thing," written by British playwright Duncan Macmillan in collaboration with Irish musician/comedian Jonny Donahoe.
To call "Every Brilliant Thing" a suicide story would be too reductive. "This show is an affirmation of life," Bahr says.
In Cedar City, the play (directed by Vincent J. Cardinal) became a breakout hit during the summer, anchored by the vulnerable agility of Michael Doherty's tour de force performance.
That performance became a living laboratory for the fall tour, especially after Doherty signed on to direct. At talkbacks, tour leaders learned more about what's needed to guide conversations before and after school performances. Teachers attending the festival requested performances of "Brilliant" at their schools.
Some 60 members of the Utah Shakespeare Festival theater company received suicide prevention training to support responses to the Cedar City run of "Every Brilliant Thing." Producers worked with mental health experts and administrators to create suicide prevention resources.
One initiative, an "Every Brilliant Thing" wall, is visible outside the Anes Studio Theatre. As the run wore on, the wall became decorated with more and more brightly colored Post-it notes filled with audience members' own brilliant things.
What sets apart the play is that the narrator's scene partners for each performance are audience members. The actor affably greets the audience and enlists volunteers before each show. "Everyone starts out in a group of strangers, and then people become a support group," is how Doherty explains the storytelling challenge.
And the gifts provided by those volunteer performers — who portray a veterinarian, the narrator's father, his girlfriend and a guidance counselor — make every show different.
Not every volunteer gets the lines right. Not everybody speaks with the diction or timing of a classically trained thespian.
"You can't control the room," says Doherty says, as if offering training tips to the tour actors who will tackle the improvisational challenges of the role. "You have to be Zen. Things will go wrong."
---
After one of Doherty's summer matinees, the actor was still overheated from the physical and emotional demands of his performance when he greeted theatergoers in the lobby after the show.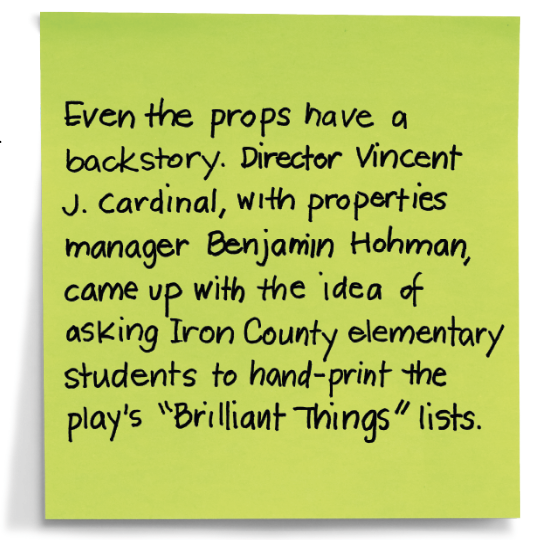 Some greeted him as if he were a priest, or maybe a bishop in The Church of Jesus Christ of Latter-day Saints. Or possibly a trained therapist.
"There's space for whatever they need to say," Doherty says of after-show comments. And also space for the emotional release of hugs.
"I've never seen anything like that," one man said at a talkback the next morning. A woman — the volunteer who repeatedly was prompted to call out "ice cream," No. 1 on the narrator's life-affirming brilliant things list — said the experience was life-changing.
She had always talked so gingerly around the issue of about suicide, the woman said. Seeing the play had challenged her to be more honest.
"Amazingly important," is how Doherty characterizes performing this show in Utah. "It feels like everyone needs to hear this story or could get something out of it."
---
TOUR INFORMATION
Utah Shakespeare Festival > bard.org/brillianttour-info.
SUICIDE PREVENTION NUMBERS

National Suicide Prevention Lifeline: 800-273-8255

American Foundation for Suicide Prevention, Utah: 888-333-2377 or 212-363-3500; visit afsp.org/chapter/afsp-utah

NAMI Utah, Mentor Help Line: 801-323-9900

Crisis Text Line: text TALK to 74741

UNI CrisisLine: 801-587-3000
---
Read Our Other Related Stories: